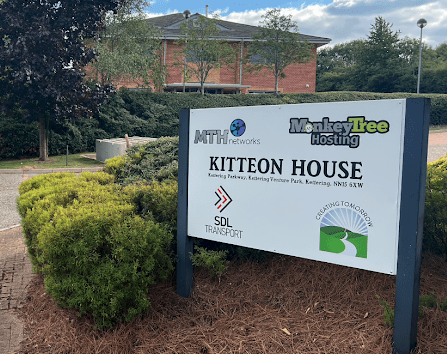 The installation of Solar panels is currently underway at our Kettering head office, which houses MTH Networks, Monkey Tree Hosting, SDL Transport, Charles Edwards Properties Ltd, and Creating Tomorrow Multi Academy Trust.
"Solar Energy: energy that uses the power of the sun to produce electricity"

Cambridge Dictionary
With the UK Government's goal to increase solar power generation by 2035, we explore the benefits of solar energy being introduced to Kitteon House.
Reduced Carbon Footprint
Solar energy has a much lower impact on the environment, compared to other energy sources, as it doesn't produce any greenhouse gases or pollute water sources. Most importantly, solar energy is a truly renewable energy source which produces no emissions during generation. This helps us significantly lower our carbon footprint, and be more environmentally responsible.
Storing Solar Energy
When the sun is shining, we can use solar energy that is produced, but what happens when the sun goes down? Often, solar panels generate more electricity than is required, so the addition of solar batteries is another great benefit. Batteries can be used to store excess energy for later use or even feed power back into the National Grid.
Return on Investment
The combination of solar technology, minimal maintenance once installed, and the continued rise in the cost of National Grid-supplied electricity make solar energy a fantastic investment. Whilst reducing the reliance on power from the National Grid, utility costs across businesses are also greatly reduced. Many businesses find that investing in solar power usually pays for itself within three to five years since solar-supplied energy can be up to 70% cheaper than purchasing from the grid itself!
Energy Independence
The installation of a sixty-eight (yes, 68!) solar panel system at Kitteon House, with a total capacity of 27.9kWp, is expected to generate around 24,000kWh of zero-carbon electricity every year.
In addition to our solar project, in 2022, Kitteon House became one of the locations in Kettering, to welcome the installation of an InstaVolt 120kW EV Rapid Charging Station: https://instavolt.co.uk/location-hub/electric-vehicle-charging-station-kettering-000436/
Use the following link to navigate to the EV Charging Station at Kitteon House: https://what3words.com/forgives.howler.hello
Work was also carried out in 2022, to replace 250 CAT2 Fluorescent lights within the offices with 30W LED units. This attributes to a whopping reduction of 5.4 tonnes of carbon emissions per year! For perspective, just 1 tonne of CO2e is equivalent to:
1,961 Vegetarian meals
192 cotton t-shirts
One-way trip from Paris to New York by plane
143,190 hours of usage of a 30W LED TV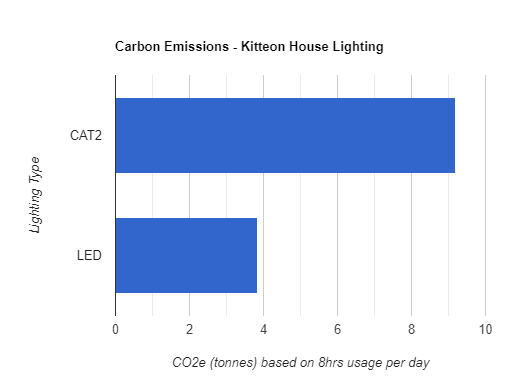 The ability to generate a substantial amount of our own solar energy, reduces our reliance on others to lower our carbon footprint, in line with the UK's target of Net Zero. We are committed to creating a greener future that promotes sustainability and creates a positive impact on our customers, the local community and the businesses at Kitteon House.

Steve Curtis, Technical Director for MTH Networks
Are you doing enough within your home to be more energy efficient? Read our blog post on how to be greener with electricals in your home!